Welcome To The GeoFS Community Wiki!
Welcome to the GeoFS Community Wiki!

We're a fan-created wiki with the purpose to inform users on GeoFS, a free online flight simulator with global imagery, as well as providing information on aircraft and content within the simulator. This wiki is constantly updated by the GeoFS community, and we greatly appreciate any edit and contribution you will make to one of our many pages or discuss with other players in our discussion.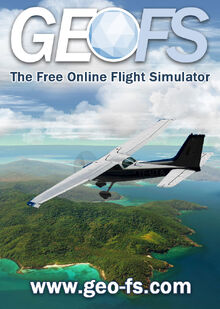 About GeoFS
GeoFS is a free online multiplayer flight simulator that operates in a similar manner to downloadable flight simulators. There are two available variants of aircraft - in-game and community contributed. The simulator offers free 10-metre imaging, and more detailed HD imaging can be purchased for 10 Euros (as the creator is based in the Netherlands).
About The Wiki
This Wiki has been popular hub for bringing together and uniting roleplay groups, with dozens of virtual air forces and airlines (including one with over 800 members) and a strong, active community. On 1st October 2020 the wiki was migrated onto the Unified Community Platform, which improves the UI and editing experience for all contributors.
Getting Started
You can get started with contributing to this wiki by clicking these links and following the rules, and checking out our policy.
Please report suspicious users to the Admin team on the discord server, and they will handle it!
Notable Roleplay Groups
Most Active Virtual Airline: Coming Soon
Largest Virtual Airline: Coming Soon
Most Active Virtual Air Force: Coming Soon
Largest Virtual Air Force: Coming Soon
Most Active Virtual Government:
Largest Virtual Government: Coming Soon
Largest Virtual Aircraft Company: Boeing (CEO EK454 Super)
For a list of the largest groups, see here.

Disclaimer: This wiki, including all of it's pages, is community created and maintained. It is not endorsed or influenced by the developers and owners of the GeoFS simulator.
Official Discord
https://discord.gg/STg9kRapfZ If you see this, your JavaScript might be disabled or DiscordIntegrator plugin isn't working. If the latter, please contact a wiki administrator.
Airline of the Week
Alaska Air Group (ICAO: ASA, IATA: AS) is a North American group that has been on the flight simulator community since August 2020 by user "NotTheeJayx". This group welcomed its second airline, Horizon Airlines (IATA: QX, ICAO: QXE) which is also known as a subsidiary of Alaska Airlines, with a fleet of 320 aircraft. Alaska Air Group achieved full-simulator operations in November of 2021.
Airport of the Week
Sydney Kingsford-Smith International (ICAO: YSSY, IATA: SYD) is a large airport in Australia, serving Sydney and its environs. There are 3 runways: 16L/34R, 16R/34L, and 07/25. The airport is served by YSSY (Syd tower), who is extremely polite and liked by all. YSSY (Syd tower) is well known for his professionalism, neutrality, and knowledge of air traffic.
Air Force of the Week
The Royal Australian Air Force, also known as the RAAF or Australian Air Force, is the air force of the Commonwealth of Australia.
YouTube Channel
The GeoFS Community Wiki YouTube Channel
Staff Team
LAC- Owner/Head Administrator
StarLineAviation- Bureaucrat
EK454 Super- Bureaucrat
Liguri- Administrator
XR21- Administrator
BritishPilot- Administrator
FakeElonMusk - Administrator
DELTA-13 - Administrator
TheGreatAviator - Administrator
Sandstormer17
- Administrator